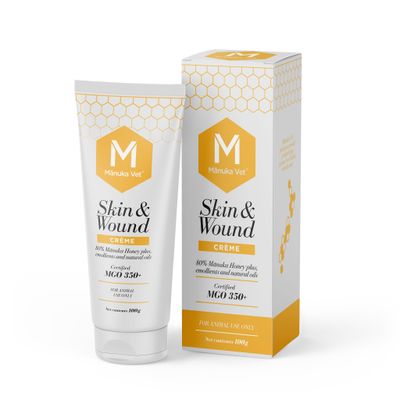 Skin & Wound Crème 100g
Creme
$49.99
The Skin & Wound Crème contains 80% Mānuka honey, plus lanolin and plant oils (citronella and rosemary). The lanolin increases the temperature stability, making it more pliable when cold and more viscous when warm, reducing run-off. In addition to this, the lanolin makes the crème water repellent. The plant oils have natural insect repellent properties, impeding nuisance insects from making contact with the wound.

This sterile and filtered 100% New Zealand product has been independently certified as containing >350mg/kg of methylglyoxal, ensuring that the crème has all of the beneficial attributes that comes naturally with high quality Mānuka honey.
The crème is designed to be used on minor wounds by itself or following Mānuka Vet® Skin & Wound Gel. Provided the wound is healing, continue treatment for up to 21 days or until healing is complete. Not recommended for use under a bandage. If in doubt consult your veterinarian.
SKU: MVCreme